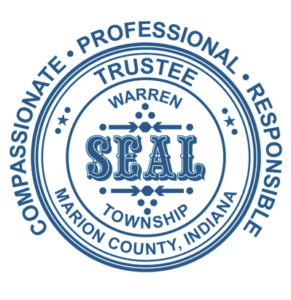 Duties of the Trustee
A Township Trustee is an elected official in the local government of the U.S. State of Indiana. A township trustee administers a township, which is a political subdivision of a county, and in common with most other state officials, serves a term of four years.
As determined by Indiana law, the trustee is responsible for assisting all township residents who meet certain eligibility requirements and demonstrate that they cannot meet basic needs on their own.  The office of the trustee is designed to provide contemporary assistance in emergency situations when a township resident has exhausted other means of assistance.  The Trustee will determine eligibility based on the applicant's/recipient's total situation. The goal of the Warren Township assistance staff is to help every eligible person within the township in an economical and efficient manner, while supporting and encouraging them to be self-sufficient and treating each person with dignity and respect.
Warren Township Trustee Office Hours of Operation
The trustee will maintain such office facilities for township assistance as may be deemed necessary. The Township Trustee Office hours are between the hours of 8:30 a.m. and 4:00 p.m., Monday through Friday, excluding holidays.  Applicants are strongly encouraged to call for an appointment before coming to the office.  Walk-in applicants will be served only as time allows.  The trustee reserves the right to modify office hours in conformity to the needs of the township.  In such event, the trustee will provide a five working day public notice. Warren Township Government Building Hours