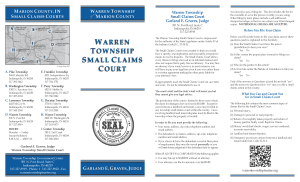 Brochure – How to Prepare for Your Hearing
MyCase – To check the status of your case or court date
Efile – https://efile.incourts.gov/OFSweb
SMALL CLAIMS COSTS AND FILING FEES
THE TOTAL COSTS TO FILE A NEW CLAIM ($89.00) AND TO COMPLETE SERVICE ON A DEFENDANT ($15.00) IS $104.
YOU MAY NOT PROCEED ON A NEW CLAIM AT THE TIME OF HEARING UNLESS SERVICE HAS BEEN COMPLETED ON THE DEFENDANT. EACH DEFENDANT REQUIRES AN INDEPENDENT ACT OF SERVICE AND PAYMENT OF $15.00 FOR SERVICE.
All payments for cost and filing fees are to be made payable to the Warren Township Small Claims Court except for payment of the cost for a Jury Trial which should be made payable to the Marion County Clerk.
$89.00 Notice of Claim
$89.00 Notice of Claim for Possession of Real Estate
$89.00 Replevin
$15.00 Service of Process (A separate act of service is required for each defendant)
$15.00 Writ of Restitution
$15.00 Writ of Replevin
$5.00 Re-docket Fee
(A re-docket fee shall be applied to a case that has an initial entry of judgment that seeks enforcement or modification of the judgment)
$5.00 Motion To Set Aside Default Judgment
$5.00 Motion To Set Aside Dismissal
$15.00 Motion For Proceeding Supplemental
$15.00 Order To Appear
$15.00 Employer Interrogatories
$15.00 Bank Interrogatories
$15.00 Final Order of Garnishment
$15.00 Body Attachment
$15.00 Order to Show Cause
$15.00 Subpoena
$157.00

 Jury Trial (

Payable to the Marion County Clerk

)